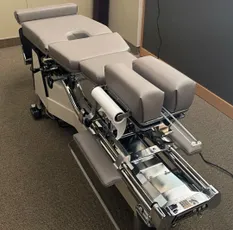 CHIROPRACTIC TECHNIQUES

At Taylor Creek Chiropractic, we take a customized approach to ensure we meet the individual needs and comfort level of each practice member. Our techniques are gentle, safe and extremely effective in getting to the root cause of the problem. We continuously heighten our level of knowledge and skill to provide you with the most advanced, scientific and proven chiropractic techniques.
Our adjustment style combines the following techniques:
Thompson Drop Table (with air-drop cushions)
This specialized table allows the Doctors to apply adjustments with a force that's made gentler by the table drop pieces. As the body begins to lower on the drop cushion, the doctor simply moves the body into a better position by adjusting the vertebrae accordingly. This technique allows the Doctor to correct misalignments and stiff joints (Subluxation) in an effective and gentle manner.
Neuromechanical Impulse Adjusting Instrument
The Impulse Adjusting Instrument is an extensively researched and effective Chiropractic technique. This FDA registered device is specifically created to deliver gently and precise chiropractic adjustments to the joints of the spine and extremities to relieve pain, restore function and most importantly, alleviate nerve interference to optimize nerve system functioning.
EXTREME SPEED - 100x Faster then Manual chiropractic adjustments. The gentle thrust is faster than the body's tendency to tighten up and resist the adjustment.
CONTROLLED FORCE - The Impulse Adjusting Instrument is controlled by micro-computer circuity housed within the device that produces a controlled force that chiropractors can use to treat different areas of the body and care for patients of all ages. This controlled force makes the adjustment comfortable for everyone.

WAVE FORM - Specifically tuned to the natural frequency of the body that joints, muscles and nerves respond to; OPTIMIZING results for patients.
Extremity (Hip, Knee, Ankle, Shoulder, Elbow, Wrist) Adjusting
Webster Breech Turning Technique & Pediatric and Pregnancy Adjusting
Both Dr. Lyne Rivet and Dr. Mike Mattinen have completed a Pediatric and Pregnancy Fellowship and are certified in the Webster Breech Turning Technique. Many pregnant mothers have benefited from receiving gentle Chiropractic care throughout their pregnancy. Midwives refer their clients for care at our clinic.
Activator Technique

Diversified Technique
Chiropractic Bio-Physics
Over the past 24 years, we have developed a combination of these techniques that effectively help us identify and correct the causes of pain, discomfort, loss of mobility and reduced health and well-being.